Nib Guide
Since it's the part of the fountain pen that touches the paper, the nib has a major impact on how each pen writes. Most LAMY fountain pens feature
Extra Fine
,
Fine
,
Medium
and
Broad
 Z50 nibs, so here's a look at each nib size and what it does best.
Extra Fine
Extra Fine nibs are sharp and precise, with the narrowest line in the LAMY range. EF nibs excel at detailed handwriting and updating your busy schedule in your diary, and also leave the least ink on the page, helping it to dry faster. Perfect for those with tight, neat handwriting.
Fine
Fine nibs are a touch broader than EF nibs, allowing the ink to flow more generously, which creates a richer line on the page, and also lets the pen glide more gracefully across the page.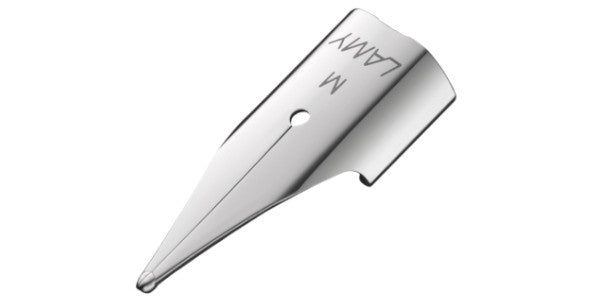 Medium
Medium nibs are broader again, delivering a thick, vivid line as it moves across the page. That extra ink also helps the pen to flow as you write, and makes your handwriting look even more lively and vibrant. If you're starting out with fountain pens, a Medium nib is a great introduction.
Broad
Broad nibs make for handwriting that's full of flourishes and line variations, which lends a vibrancy to letters, notes and journal entries. It's a lively experience, and can be quite stunning, but the amount of ink on the page means it can be hard to manage for fountain pen newcomers, with greater chances of blurring or smudging.
Italic Nibs
Oblique nibs and Italic or Calligraphy Nibs. These nibs require a little more care and attention than standard nibs, so they can be off-putting for newcomers. Oblique nibs are carved at a different angle than standard nibs, which can create some playful curves. 
Italic nibs are also often called Calligraphy nibs since they're commonly used in classical handwriting. Italic nibs have a straight, flat tip where standard nibs have a ball-shaped tip, which allows them to create the looping, varied lines that makes calligraphy so appealing. Italic nibs are usually named by their line width e.g. 1.1mm, 1.5mm and 1.9mm.
Materials
You'll also see some variation in the materials each nib is made of. Most LAMY nibs are made of stainless steel, which is a material that keeps things light while still providing the strength a nib needs to hold its shape. Stainless steel nibs are found on lots of LAMY fountain pens, including safari, AL-star, Lx, joy, scala and studio models.
In LAMY's premium range, you'll find some nibs that are made of 14kt. Gold. The natural softness of gold offers a gentle cushioning, smoothing out some of the small bumps and drags of the writing experience. These nibs are partially coated in platinum for additional strength, as well as creating a striking visual effect. These nibs are found on dialog and some studio models.
The imporium fountain pen also features a 14kt. gold nib, but with a distinctive twist. The Black and Black/Gold imporium fountain pens feature a 14kt. gold nib with a high-contrast black PVD coating that matches the style of the pen, and adds to the premium feel of this striking pen.
As is so often the case, the LAMY 2000 Fountain Pen is in a class all its own. Made from 14kt. gold and finished in platinum, the 2000 nibs have a distinctive shape that follows the striking style of the pen itself, creating a harmonious design that adds to the pen's elegant feel.
Manufacturing
Around 95% of production happens at LAMY's Heidelberg location, including every single nib. Each nib is manufactured, ground and polished by hand before going through strict quality control processes under the watchful eye of LAMY's experienced team.